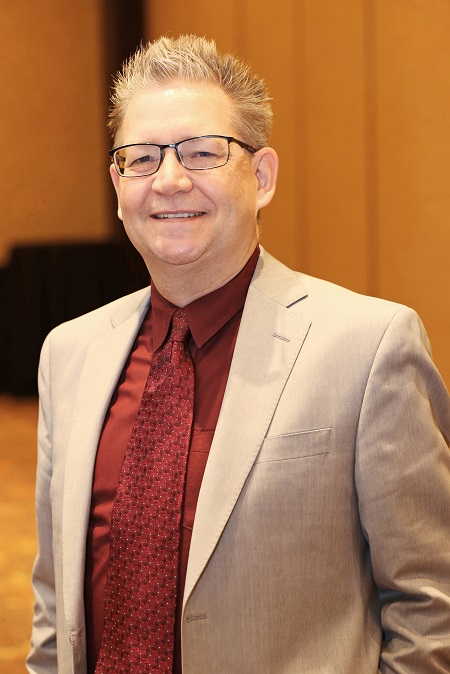 Karl W. Palachuk
Click to Enlarge
Managed Services in a Month
It's not too late! YOU can get into Managed Services — in a month.
All you need is a little guidance and how-to instruction. As Karl says, lots of people have done this and you can, too.
Even if you decide not to become an MSP (managed service provider), this presentation is full of great advice about taking stock of your business, "weeding your client garden," adjusting your prices, and other best practices for the Small Business Consultant.
30-60-90 minutes. Can easily be extended to a hands-on workshop.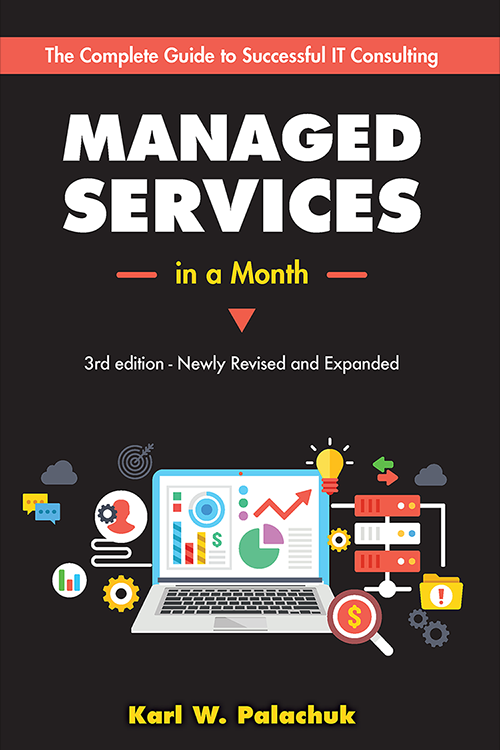 Managed Services in a Month
Click to Enlarge
Standards and Procedures That Will Instantly Increase Your Profits
Presented in four countries and more than a dozen cities, this topic is HOT.
Standard Operating Procedures divide the most successful businesses in every profession from "the rest" of the businesses in that profession.
This presentation is all about the managed service industry – and the most important things you can do to dramatically improve your business right now.
As with all of Karl's presentations, this one is both entertaining and educational. It's chock-full of practical advice you can implement in your business.
60-90 minutes. Can easily be extended to a hands-on workshop.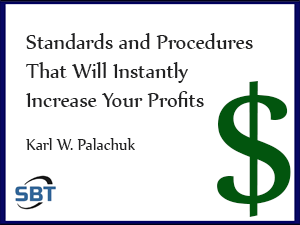 Standards and Procedures
Click to Enlarge
How to Create a Hugely Profitable Cloud Solution for Small Business
This presentation can be as short as one hour – or it can be a workshop that last all day. Karl covers "Setting the Stage" for cloud services. That means preparing your business, your services, and your clients. Next, he address "Bundling Hugely Profitable Products and Services." This is the key to successful cloud service offerings: Creating bundles that are easy to sell, easy to implement, and very profitable to provide on an ongoing basis.
Finally, Karl covers "Taking it To The Streets" – The delivery of cloud services. In addition to practical advice for daily operations, he covers the internal changes you need to make to your business in order to move into the new business category of Cloud Service Provider.
60-90 minutes. Can easily be extended to a hands-on workshop.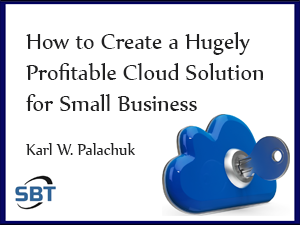 Profitable Cloud Solution
Click to Enlarge
Project Management – Design and Execution
Whether you focus on fixed-fee bids, managed services, or break/fix work, we all love projects. Why?
Because no matter what else is going on in your business, project labor is billable!
At the same time, we've all seen projects become very unprofitable. In fact, we've all had it happen to us at some point.
How do you keep the project on track, now "hijacked" by the client, and guarantee you'll make money on every project? Karl explains the details in this lively presentation. Based on fifteen years of designing, selling, and managing projects for companies of all sizes.
Karl is the author of the Super-Good Project Planner for SMB Consultants
and has trained hundreds of consultants on project management.
60 minutes to all day, depending on your needs.
Profitable Cloud Solution
Click to Enlarge
All the TCP/IP and DNS You Need to Know
There is one technology you need to know to truly master small business consulting today: TCP/IP. A close second is DNS. If you can master these, you can streamline any process and troubleshoot any problem.
Karl presents the core elements of these technologies in a manner that is clear, concise, and easy to understand. He describes the boundaries around what you "need to know" and what you don't. Then he provides all the information inside the bucket labeled What You Need to Know.
A one-hour seminar covers the basics. An all-day seminar covers the entire subject.
60-90 minutes. Can easily be extended to a hands-on workshop.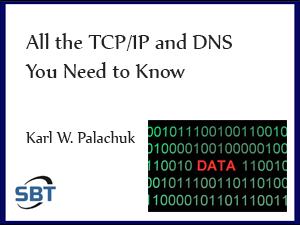 TCP/IP and DNS
Click to Enlarge
Additional Presentations
The following presentations are also available. Most can be tailored to your audience, including time constraints and specialized focus. If you have questions, please inquire!
The Exponential Century – Taking Advantage of Massive Simultaneous Change
Processes are Branding/Branding is Everything
Ten Rules for Getting Rich in Small Business
Break/Fix is Immoral: Why You Have to Offer Managed Service
Build Your 8-Hour Work Week in the Cloud
The Central Role of the Service Manager in Cloud Services and Managed Services
POS as a Service – Building a Solid Platform for Recurring Revenue
What Successful MSPs Look Like Today
Seven Keys to Building the Managed Service Business You Always Wanted
Closed Loop Project Management
Executing the Project Scope
What We Used To Call "Best Practices"
Project Management is NOT Business as Usual
From Process to Profit: Super-Charge Your Managed Service Business with SOPs
Network Assessments for Fun and Profit
Reboot Your Business – The Mindset
Promoting Excellence / Building Your Identity
Network Documentation for Fun and Profit
Network Migration: The Perfect Network Migration
Developing Your Service Agreements and SLAs
How can Karl help you?
Contact us today.